Paresa's Safeguard
We're ready to welcome you to Paresa
Paresa team would like to reassure current and prospective guests of our commitment to your safety and security. We always work to the highest standards of hygiene and cleanliness but for the pandemic, we need to put extra measures in place with the emphasis on flexibility as the situation develops. Our normal cleaning and sanitization operations will be carried out to ensure the safety, health, and comfort of every guest.
Book with confidence at Paresa
We are acutely aware of your concern over the current COVID-19 situation and we are now proud to announce that Paresa has achieved SHA Plus certification guaranteeing staff vaccination and strictly adhering to Covid-19 health and preventative protocols.
We sincerely thank you for choosing to stay at Paresa, we look forward to welcoming you.
Paresa Team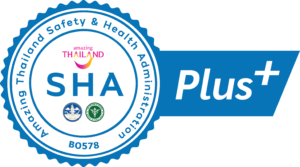 COVID-19 PROTECTION
The health and well-being of our guests is a priority at this difficult time. We are committed to cleanliness and offer the following support for the enjoyment of their holiday:
All hotels have measures in place to protect guests as far as possible from the Covid19 virus.
All guests, staff, and other arrivals are temperature-scanned on arrival.
Alcohol and sanitizing gel are made available to guests for frequent hand-cleansing;
Swimming pools are appropriately chlorinated as usual and chlorine levels are checked and adjusted regularly.
Strictly enforced regulations for staff regarding hand-washing with alcohol-based cleaners ensure a high level of sanitation.
All public areas including lobbies, elevators, door handles, public toilets, the fitness studio, and other equipment that guests may touch are cleaned with 75% v/v alcohol.
Before guests check in the accommodation including furniture and all appliances is thoroughly disinfected with 75% v/v alcohol.
During this treatment doors and windows are opened to allow warm sunlight and fresh air to flood the accommodation.
All food and beverage outlets are sanitized and serviced according to current food-safety recommendations.
We are in continuous contact with local authorities to monitor regular updates and will strictly follow the instructions issued by the Thai Government.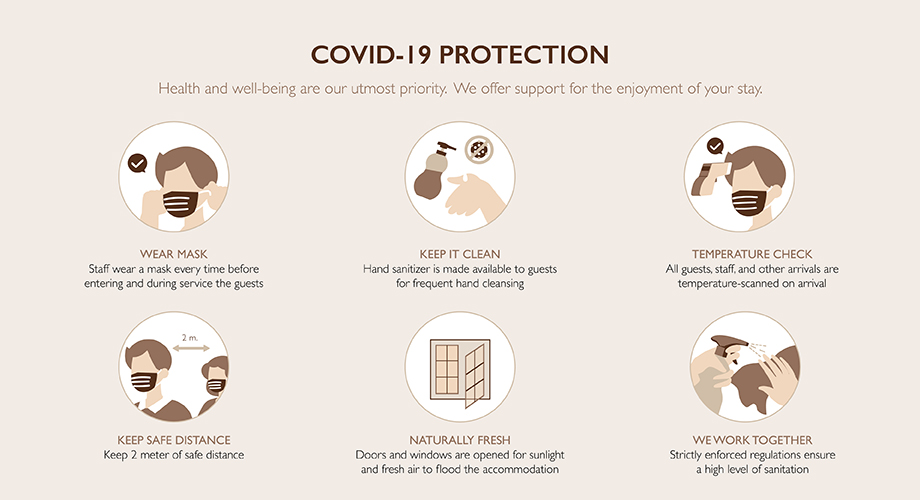 We are committed to safeguarding your health and wellbeing during every moment of your stay
Arrival / Departure
Everyone arriving at our properties has their temperature checked, and all luggage is sanitized before it enters the property.
Transport
Hotel vehicles used for airport transfers and/or excursions are fully sanitized after every journey. Our drivers follow the strictest hygiene standards and hand sanitizer is available in every vehicle.
Cleaning
We use the latest sterilization, disinfection, and cleaning technologies to ensure the highest possible levels of cleanliness.
Public Areas
We have significantly increased cleaning schedules in all public areas with particular focusing on high-touch areas such as door handles and lift buttons. We strictly adhere to physical distancing best practices.
Guest Rooms
Rooms are thoroughly cleaned and disinfected after every stay. Every room contains a personal hygiene kit with a mask and hand sanitizer for each guest.
Dining
Table spacing and a la carte-only dining ensure physical distancing compliance and the highest hygiene and safety standards.
Spa and Fitness
Spa and Fitness are strictly limited to ensure physical distancing and thorough cleaning. Advance reservation is required.
Team Members
All team members have received enhanced COVID-19-related health and safety training, including correct procedures for wearing masks and personal protective equipment and physical distancing awareness.
New Normal Procedure to deep clean guest's room and public area
Housekeeping wears mask and glove all the time during preparing guest villa.
During cleaning the room, the housekeeping will open all curtains and sliding doors to have fresh air and air ventilation.
Cleaned regularly with cleaning agents and sanitizer spray especially on telephone, TV remote control.
Set up UVC/Ozone machine in the bedroom for 30 minutes to kill all germs. Before leaving the room, our housekeeping will spray in the room again with sanitizer spray and also the door handle and room bell.
New Normal Procedure to welcome guest upon arrival to resort
Resort Limousine Service​
Driver must wear a mask all the time of service.
In the resort vehicle, we will do not set up pillow or cushion seat cover as we will deep clean for every​time when we have a booking and set up Alcohol Hand Gel. Driver must offer guests the alcohol hand gel​ after guest seating.
Daily deep clean resort vehicles include all duct by vacuum and wet disinfectant​ chemical towel and final disinfectant spray.
All processes must be prepared in less than 20 minutes before providing service to guests.
Vehicle cold towel will be sealed in the pack for one-time use and drinking water will be sanitized as a hygienic concern.
All luggage needs disinfectant spray before moving into the vehicle.
After arrival, the resort vehicle must be sprayed around by the security guard at the resort​entrance before entering inside.
Guest Self Drive Service to Resort
When the guest vehicle arrives at the resort entrance, security needs to put disinfectant spray around vehicle wheels before letting the vehicle into the resort area.
The bellman who takes care of guest luggage must be disinfectant spray the luggage after removal from the vehicle.
Guest Check-In Procedure
Bellman and GRO have to wear a mask and face shield all time during service provide to the guest.
Quick body temperature test to the guest with offering hand gel alcohol and escort the guest to check-in In Villa.
GRO will provide a resort introduction start from the lobby story, down to Gong, and Miracle lawn.
GRO will lead the guest directly to the villa and quickly provide resort information.
GRO will serve a cold towel welcome drink of homemade resort herb in a bottle with a paper straw. If the minibar not be consumed by guests, the housekeeping team will remove it the next day when making up the villa.
Encourage guests to scan Thai Cha-Na QR code for Government record and continue checking in process. ​
In case of guest got a fever, please immediately contact the front desk then we can offer doctor assistance.
Buggy & Shuttle Bus Service
Driver must wear a mask all the time of service.
Driver must daily prepare buggy by checking condition and cleanliness. Every time before the guest seat please do disinfectant spray, please make sure each guest's buggy has the disinfectant bottle.
During the day if without guest request buggy service, our driver still needs to make sure for buggy cleanliness.